Five Things to Look Forward to at Consensus Customer Day 2022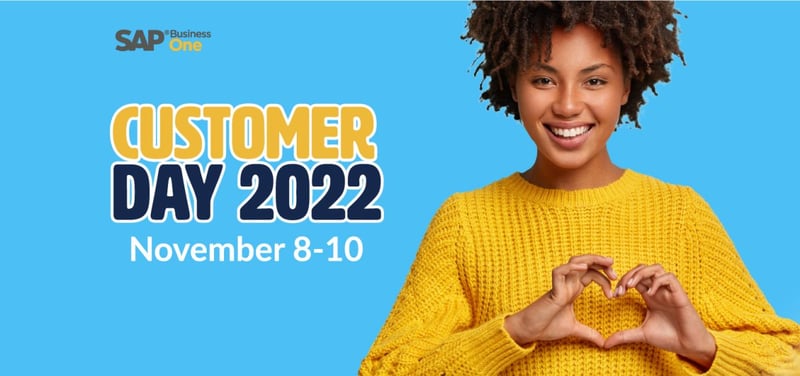 Consensus Annual Customer Day is back. We know… it feels like forever but the day we have all been waiting for is finally here!
As your SAP Business One partner, our goal is to help both your organization and your people. Consensus Annual Customer Day 2022 is made for our SAP Business One community. Attendees can expect plenty of helpful, tangible content they will be able to take home, and put in practice on a daily basis while using the system.
According to Clara Custodio, Customer Experience Director at Consensus International, the Customer Day is "
something for everybody. The event features content on a whole host of topics that will make the life of new and longtime SAP Business One users, easier and better
,
and help companies leverage their technology investment,
explained Custodio.
This three-day virtual event features 9 relevant sessions – all in one place and is accessible to everybody at no cost.
"There is no better place for our SAP Business One customers than our Customer Day. We will have rich content – functional, technical as well as new solutions and innovation. I am looking forward to welcome you on November 8th", added Mauricio Castrillon, VP Sales and Marketing at Consensus International who is in charge of the the keynote session alongside with Idit Saguey, SAP Market Unit Lead for North America.
SAP Business One users familiar with Consensus Annual Customer Day are well-versed in all that the event has to offer. Here's what to expect at this year's event:
1. Join the keynote and get the latest technology trends for SMEs
Presented by: Idit Saguey, SAP Market Unit Lead- NA and Mauricio Castrillon, Consensus VP Sales and Marketing. Join us to discover the trends and innovations that may help you plan and implement your digital journey. Discover recent and planned innovations for SAP Business One and how SAP, Consensus, and our SAP Business One Community are transforming business models, reengineering business processes, and reimagining work.
2. Latest features available in SAP Business One 10 by Idit Saguey from SAP
Idit Saguey, SAP Market Unit Lead- NA returns for an in-depth look at SAP Business One Web Client and the latest enhancements in SAP Business One version 10. "Bringing you the best of all worlds, the Web Client is based on SAP Fiori design principles and encapsulates SAP Business One core processes and business logic.
It reads and writes from and to the same company database you use with SAP Business One, and is available for both MS SQL and SAP HANA versions. Discover a new way to interact with your Company data with great analytics capabilities!"
3. Our favorite one! Tips and Tricks session
Presented by Consensus Team. There is no better way to enhance your learning experience than with our Tips and Tricks session. Don't miss this collection of very short videos showing you new ways to make your work easier!
During Consensus Customer Day 2022 you will discover SAP Business One functionalities you might not be using today. 'Get a front-row seat' and enjoy the sessions.
This year's scheduled speakers include Consensus Consulting and Services Staff, Clara Custodio, Fernanda Martin, Francisco Garcia, Greg Roop, Hebert Moreno, Jaime Wilchez, Josh Henn, Luana Wickert, Maria Andrea Reyes, Marisa Molina, Marisol Santos, Milagros Pena, Pili Nino, Richard Calvo and Yanina Noboa, along with Mauricio Castrillon, VP Sales and Marketing at Consensus International and our special guest from SAP, Idit Saguey, SAP Market Unit Lead- NA.
A good day at work for any Consensus International employee is when we can make a change, no matter how big or small, in an SAP Business One user's work life, for the better.
Register now for Consensus Annual Customer Day on November 8th - 10th, 2022 and explore the session catalog. Pick your learning path and enjoy our three-day virtual event.