FAQ When Migrating from MACOLA™ to SAP Business One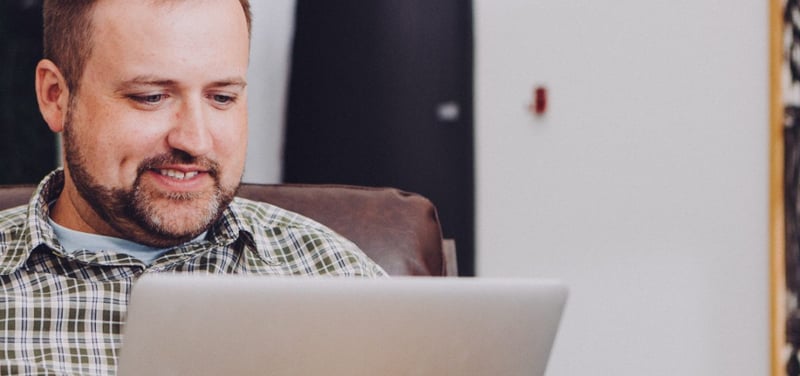 Below are a few commonly asked questions and their answers on the MACOLA™ Migration to SAP B1.
There is an answer to your question! The following are the common questions we hear from users migrating from MACOLA™ to SAP Business One.
1.

Tell me about Consensus International.
We are one of the largest and most respected SAP Business One resellers in North America. Consensus leadership team is made up of ex- MACOLA™ technical staff and consultants. We implemented MACOLA™ 800+ times over the past 20 years and supported hundreds of MACOLA™ customers around the globe. We know the capabilities and limitations of MACOLA™ software, inside and out.
2.

How long does it take to move from MACOLA™ to SAP Business One?
The process can be completed in around 12 weeks. It will depend on your business processes and complexities.
3.

What information can be exported from MACOLA™?
Consensus has developed an exclusive MACOLA™ Data Extraction Tool (DEX) which pulls table data information directly from your MACOLA™ Database. – Note: You must be running MS-SQL in MACOLA™ to use the DEX tool.
Master Data:Customers/Vendors with Addresses and Contact Information, Item Master, Item Location, Material Cost Type, Product Category, Bill of Materials, AP/AR Terms Codes, Ship Via Codes and other master data information (See window below).
Dynamic Data:Open Sales Orders, Open Purchase Orders, Open Production Orders (Shop Floor or Production Order Processing), On Hand Inventory (Quantity and Cost) Open Accounts Receivable, Open Accounts Payable.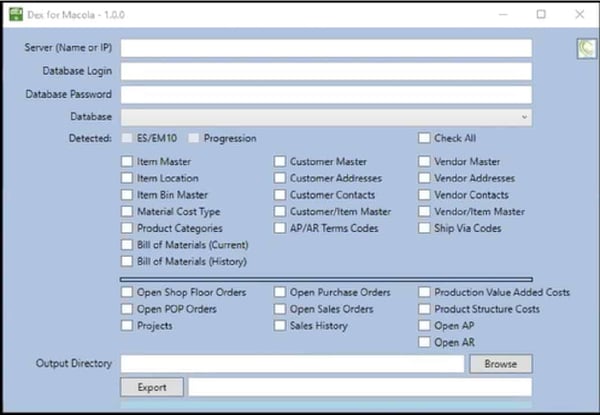 4.

How do I get all my existing Layouts/Forms and Documents to SAP Business One?
You may not need to convert any of your customer forms and documents. Crystal Report Writer is used a basis for SAP Business One's layouts, forms, and documents. SAP Business One has, in many cases, multiple templated versions of all main documents you will need to create, view, print and send. These templates are easily modified to add your company logo and other unique information.
Consensus International has a team of skilled Crystal Report Writer users who can either assist your team or manage the layout updates for all your document needs.
5.

Does my MACOLA™ Transaction History get converted?
Typically, not. Beginning balance inputs and historical month end balances can be added into SAP Business One.
6.

How do I get my Sales Order History and Purchase Order History migrated to SAP Business One?
Your Consensus Team has a set of Data Migration templates that are used to bring in your historical data. Couple that with the MACOLA™ Export Tool (DEX) and your well on your way to moving your company data from MACOLA™ to SAP Business One. Your Company data is vital to you and your business. Consensus International understands the importance of your information as it is you Corporate Digital Identity.
7.

How do I get all my users trained to use SAP Business One?
Your Consensus team has several skilled MACOLA™ users as well as very deep knowledge with SAP Business One. Training sessions and workshops will be scheduled that cover each functional area. A series of tests, Pilot and User Acceptance Test, will also be conducted.
Consensus International also has a great library of on demand pre-recorded sessions covering most functions within SAP Business One.
The Learning Journey – SAP Offers you and your user's access to the Learning Journey – The Learning Journey is series of on demand, interactive training sessions covering all main functional areas within SAP Business One that utilizes a Demo Database for you to practice with.
8. I'm using WiSys–Warehouse Management System with handheld barcode scanners and printers.
Great news! WiSys works with SAP Business One. There is a standard migration path from WiSys to go from MACOLA™ to SAP Business One.
9.

Will I be able to send Sales Orders Acknowledgments, Purchase Orders, Invoices, Customer Statements as well as other documents to outside or inside sources automatically using electronic automation?
Yes. SAP Business One can easily manage the automation to send out these and other documents to your customers, vendors and all other persons requiring notification.
10.

Reports in SAP Business One and a bit more…
SAP Business One has a full suite of reports to review and track Financials, Operations, Sales, Inventory, Production, Shipping/Receiving, and other functional areas. No more MACOLA™ COBOL reports!
Your Month End Close becomes much easier: No need to run all your MACOLA™ reports to files at the end of the month.
SAP Business One is a relational database which permits reports to be run at any point in time (Today. Last week, month end, year-end, last year, etc.). Example: I'm up and running with SAP Business One for a bit over a year. I can go back and run reports for a specific date that will show that day's inventory on hand, Open AP, Open AR Balance Sheet. P&L, etc.
SAP Business One has native Dashboard/Cockpit widgets that can be configured to suit your needs. Your Dashboard/Cockpit can be configured to each user, or a group of users needs. Example: set up a Dashboards with Purchasing or Sales Order widgets and deploy these Dashboards/Cockpits to specific users.
Additional Deep Functionality exists within SAP Business One's Business Analytics. SAP Business One can be used to review or alert users rather than then needing to run and print a report. Of course, SAP Business One has many reports to run, filter, and review as needed.
Crystal Reports in SAP Business One.

SAP Business One uses Crystal Report Writer (Crystal Report Writer is owned by SAP). The table structure within SAP Business One is different than MACOLA™. Each report will need to be reviewed. You will find many of the 'custom' reports you needed are native in SAP Business One.
In addition to Crystal Reports, SAP Business One offers a very user-friendly Query writer with easy export to Crystal, Excel, or a Dashboard widget. Additionally, SAP Business One offers a full business analytics interface which allows users to review, query and build easy to use, read and share reports and views.
11.

I am concerned the move to SAP Business One will be too challenging for my team.
Your Consensus Team has a proven 5 Step Implementation Methodology (Accelerated Implementation Methodology – AIM) which manages the initial Planning, Blueprinting and Discovery, Data Migration, User Training Workshops, Reports, Forms and Document updates, Pilot and User Acceptance testing, Final Data Migration with Go Live support and post Go Live follow up.Consensus International has completed over 900 successful SAP Business One implementations.
12.

How do I contact support for SAP Business One?
Your Consensus International team provides front-line support for SAP Business One. We can be reached by phone, email, or the Consensus Support Portal.